The UK's Safe Seller Scheme for Businesses & Traders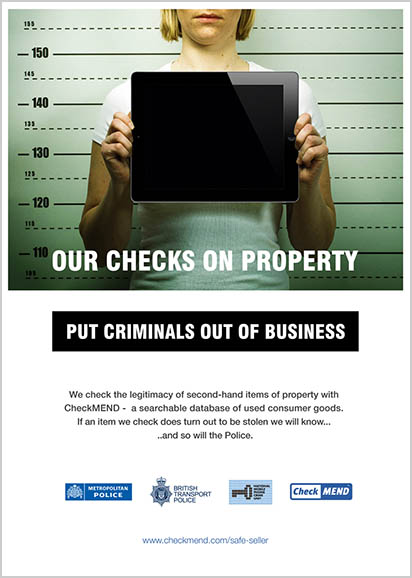 The Safe Seller scheme is a UK Police initiative being lead by London's Metropolitan Police Service and British Transport Police (BTP), seeking to reduce crime and recovery of stolen and lost property through the exploitation of the NMPR, CheckMEND and other associated services in the Recipero Crime Reduction Ecosystem.
The initiative was initially launched in 2013 in London and has since been rolled-out nationally forming part of many Police Force's campaigns to identify and reduce property theft and associated criminality.
Voluntary Code of Practice for Traders
The Safe Seller scheme provides a Code of Practice for businesses involved in the handling and processing of identifiable second-hand goods - this includes mobile phones, electronic devices, bicycles and the like that are offered for trade-in, recycling or re-sale.
The Code of Practice is intended to form the basis of standard operating procedures for participating businesses and traders that process or handle second-hand goods. It also provides guidance on what actions are necessary when a device is identified as not being in the possession of its rightful/lawful owner.
25 free CheckMEND checks for scheme participants
As part of the scheme and with the support of CheckMEND, participating businesses will be offered 25 CheckMEND checks free of charge subject to participation being confirmed via a Police Officer. Officers will also be providing participating businesses with a Safe Seller window sticker and poster providing a clear message to customers and that perform checks to ensure they only trade legitimate goods.
"The CheckMEND system really does help to ensure shops are not selling on stolen goods and putting money into the hands of criminals." "The CheckMEND Safe Seller scheme is a great way for people to buy with confidence and be reassured that the products they are buying are legitimate and not stolen."
If you would like to know more about the scheme please contact our support team
Need more than one check? Open a web account
If you're a trader or individual that makes frequent purchases of used electronics you'll benefit from opening an account with features including 7 day status change alerts, list of past checks, payment/invoice schedule, bulk checking facility, and great discounts when purchasing multiple credits.
Looking for contract pricing?
If your business has high volumes, multiple locations, requires systems (API) integration, or other needs then our contracted solutions are for you.