CheckMEND news
CheckMEND is the world's largest online searchable database of stolen possessions and blocked mobile phones. For recent news please see the articles below or visit the Recipero CheckMEND blog ».
If you have any queries or require press information please contact us »
Recipero launches CheckMEND Charter to cut cell phone crime
(09 January 2014)
Recipero, the global experts in device-led data and analytics solutions, today have announced the launch of the CheckMEND Charter.
The CheckMEND Charter was created as a means of establishing an industry-led set of best practices to prevent trading of stolen consumer electronics. In addition to protecting consumers and helping to avoid confusion and frustration, Charter participants pledge to actively help law enforcement agencies combat theft and fraud related to consumer electronics.
Several of the US's biggest consumer electronics retail, reCommerce and recycling companies are already operating in accordance with its principles, including the leading trade-in site Gazelle.
Gazelle was the first US consumer electronics trade-in site to deploy CheckMEND and continue to demonstrate their commitment to the consumer and industry through their involvement with the Charter and its creation.
Israel Ganot, CEO, Gazelle.
"When we first entered into a partnership with Recipero to leverage the CheckMEND tool, our goal was quite simple: to prevent thieves from benefiting from stolen consumer electronics, the new CheckMEND Charter takes this a step further, not only ensuring that Gazelle will never pay a consumer for a device that has been reported as lost or stolen, but to also ensure law enforcement agencies can more effectively combat consumer electronic device theft.
The CheckMEND Charter is a voluntary scheme, open to trade users of CheckMEND who agree to abide by its principles. In support of the Charter and its members, Recipero's experienced CheckMEND team act as a trusted third party to help troubleshoot any issues that consumers may encounter with devices that are rejected.
Mark Harman, CEO of Recipero, commented:
"The adoption of the US Charter is something we have been working toward for several months. Our experience of the implementation of similar schemes in the UK has demonstrated that voluntary codes of practice such as this Charter have a measurable impact on mobile device related crime, results that we believe can be replicated in the US."
More details on the requirements for Charter members is available online: www.checkmend.com/us/charter.
CheckMEND is delivered online in real-time and is a cutting-edge analytics tool used to more accurately detect lost and stolen consumer electronics. The database is the most complete listing of devices available, comprised of data from major wireless carriers and law enforcement entities globally.
The CheckMEND service assists everyone from eBay users to mega retailers and recyclers like Gazelle to avoid lost, blocked and stolen devices.
About Recipero
Recipero (www.recipero.com) is trusted by thousands of clients and data providers to securely aggregate, analyze and interrogate data. Forming part of millions of decision making processes and transactions every month, Recipero's device-led data and analytics solutions are provided online, in real-time, and are used globally by law enforcement, wireless carriers, insurers, recyclers, retailers and consumers.
About Gazelle
Gazelle is the nation's leading consumer electronics trade-in site, providing an easy, fast and safe way for consumers to get cash for their unwanted devices. For more information on Gazelle and its participation in the CheckMEND Charter, visit: www.gazelle.com
CheckMEND celebrates its 5th Anniversary in the U.S.
(11 December 2013)

CheckMEND is proud to be celebrating its 5th year of providing North America's most reputable cell phone and mobile device history checking service.
The past 5 years have seen a great deal of change in global recommerce markets. This incredible growth has being driven by continual consumer demand for the latest and greatest mobile devices, which in turn has led to an ever-increasing number of second-hand devices being traded.
Environmental factors and regulatory issues have also been key drivers in how the market has developed for providers of trade-in and recycling programmes, all of which have resulted in soaring demand for CheckMEND.
CheckMEND's commitment to the market has earned its reputation as a trusted third party and its service has become an embedded part of millions of transactions each year.
For retailers, recyclers, and other businesses handling second-hand devices, use of CheckMEND helps traders avoid lost, blocked and stolen devices, ensures compliance, and has a record of strong ROI.
For consumers using eBay, Craigslist or any other re-sale marketplace, a CheckMEND report can not only indicate a device's current status, it also reports on other factors that can influence its value.
For Police and law-enforcement agencies, working with CheckMEND can cut investigation time, reduce costs, and contribute to the reduction of personal property crime.
Gazelle, a leader in consumer electronics trade-in was CheckMEND's first U.S. customer. Matt Rowe, VP General Counsel at Gazelle said:
"Gazelle has experienced greater than 100 percent growth in volume for the past several years. With increased volume comes an increase in attempts to trade stolen devices. CheckMEND helps protect our business from that risk and better serve our customers."
Mark Harman, CEO of Recipero the provider of CheckMEND, commented:
"The U.S. is currently our largest and fastest-growing market. To meet this need 12 months ago we committed investment in all areas of the service particularly in hardware infrastructure, software architecture, and support systems. Our investment ensures CheckMEND is extremely well placed to meet the high-volume, high availability needs of our U.S. clients today and in the future. It is fantastic that this has already been recognised by some of the U.S.'s largest organisations"
Today CheckMEND assists everyone from eBay users to mega retailers and recyclers like GameStop and Gazelle avoid lost, blocked and stolen devices.
GameStop has more than 4,200 U.S. stores, all of which have an active smartphone trade-in program. CheckMEND is a key part of their in-store process where speed and reliability is critical.
Sean Cleland, Director of Recommerce at GameStop said:
"Integrating the Recipero CheckMEND technology with our POS systems and refurbishment facilities was simple and efficient. Their product is an integral part of our efforts to protect our customers and be in full compliance with local regulations."
Notes for Editors
CheckMEND is provided by Recipero, a company trusted by thousands of data providers to securely aggregate, analyse and interrogate data. Recipero's data and analytics are used globally by law enforcement agencies, wireless carriers, insurers, recyclers, retailers and consumers.
Links:
CheckMEND: www.checkmend.com
Recipero: www.recipero.com
GameStop: www.gamestop.com
Gazelle: www.gazelle.com
Don't let burglars ruin your Christmas
(10 December 2013)
Avon & Somerset Police want everyone to have a safe and enjoyable Christmas.
Chief Superintendent Jon Stratford who is in charge of burglary for Avon and Somerset Police said:
Over the Christmas period we'll be working hard to keep you and your property safe. Please do your bit to help us.

After you've done your Christmas shopping, if you've bought any gadgets for your family and friends then make sure you log anything with a serial number on the national property database Immobilise. This will help us to return your property to you if it's stolen and will make it harder for thieves to sell on.

I also can't stress enough the importance or downloading and installing tracking software on your mobiles, tablets and laptops. We've had some great results recently where people have activated their tracking software as soon as their phone or tablet has been stolen. Not only did it allow us to catch the thief red-handed, it meant the victim got their property back quickly.
Whether you're going away for Christmas or staying home to play with all your new toys, there are some simple tips you can follow to keep you and your family safe.
Your home is your castle
If you're going away for Christmas, make sure your house looks occupied. It's worth getting automatic time switches for lights and radios.
Ask a neighbour to keep an eye on your house whilst you're away – they could park a car on your drive and collect any mail or free newspapers which might otherwise just sit in your porch.
Cancel deliveries of milk and newspapers discreetly – don't announce your departure to a shop full of people. Only tell people who need to know you're going away and don't post your holiday dates on Facebook or Twitter.
Don't have your home address showing on your luggage for the outward journey. Only put this on the inside of your cases.
Lock the garage and shed with proper security locks. Make sure your tools are locked away so they can't be used to break into your house.
Remember to remove the keys from locked doors and windows and to keep them out of sight in a safe place.
Letter box restrictors can prevent thieves from accessing the lock from the outside.
Never leave valuables on display by windows or doors, especially those with cat flaps.
Keep presents out of sight and don't leave packaging for new electrical goods on display outside your house – keep it out of sight until the recycling is collected.
Christmas shopping
Keep handbags, purses and wallets close to you and secure at all times.
Don't leave bags hanging on the back of chairs in cafés and restaurants, under tables or in shopping trolleys.
We've said it before and we'll say it again, register all your gear on Immobilise!
Meet your neighbourhood team
Come to one of the local registration events going on across Avon and Somerset, where your local neighbourhood team can help you to register your property on Immobilise. You can also speak to them about any issues you might have and get general crime prevention advice to help keep you safe this winter. Visit the local pages of the Avon & Somerset Police website to get details of your nearest event.
Recipero recieves the prestigeous Secured by Design award
(20 June 2013)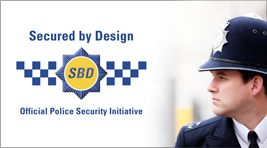 Recipero is pleased to announce that it recently received the highly regarded Secured by Design (SBD) Award for its services and products, including the Immobilise National Property Register service & products, plus linked services including the Police NMPR service, CheckMEND and Report My Loss, all of which are aimed a helping identify, investigate and deter crime and associated criminality.
The Secured by Design Award is the culmination of many months of work that also saw Recipero become both ISO9001 (Quality Management) and ISO27001 (Information Security Management) certified.
Secured by Design is the initiative from the Association of Chief Police Officers (ACPO) that aims to reduce crime and calls for the use of services or installation of security solutions that meet police-approved standards. Businesses whose services and/or products have been certified by an accredited testing body to the specified standards, can apply for SBD membership and licence to utilise the scheme's logo.
The SBD logo is the only symbol that guarantees national Police approval of a product or service, providing customers with reassurance that the solution provides a proven level of resistance to criminal attack.
Utilising SBD-accredited services and security products is a quick and simple way to ensure compliance with new guidelines. Consumers and specifiers are also recognising that SBD provides an easy route to help identify which of the many technical standards indicates a service or product is an effective crime prevention measure.
Neil Stewart, Recipero's Commercial Director said:
Gaining SBD approval for our services is a significant achievement, and demonstrates Recipero's commitment to data security and product quality. It also serves to provide Recipero's valued customers with reassurance that we continue to meet the high standards we have reputation for delivering.
For more information please see:
Secured by Design: http://www.securedbydesign.com
Details of ISO 9001:
http://www.british-assessment.co.uk/services/iso-certification/iso-9001-certification/
Details of ISO 27001:
http://www.british-assessment.co.uk/services/iso-certification/iso-27001-certification/
More news at: