CheckMEND news
CheckMEND is the world's largest online searchable database of stolen possessions and blocked mobile phones. For recent news please see the articles below or visit the Recipero CheckMEND blog ».
If you have any queries or require press information please contact us »
Sims Recycling Solutions integrates CheckMEND as they expand into Mobile Devices
(17 May 2013)

Sims Recycling Solutions, a global leader in electronics reuse and recycling, has announced it that it has expanded its U.S. asset management services to include mobile devices, such as feature phones, smartphones and tablets.
Based on the most recent numbers from International Data Corp., it's clear that mobile devices, especially smartphones, have continued to erode personal computer sales. Worldwide PC shipments totaled only 76.3 million units in the first quarter of 2013, while worldwide smartphone shipments totaled 216.2 million units. Sims realises this technology shift is changing asset management practices, so the company has invested in the resources necessary to successfully manage the unique challenges associated with mobile devices.
As an extension of our existing asset management services, we have added new ones that simplify the task of managing mobile devices
stated Steve Skurnac, president, Sims Recycling Solutions, Americas.
By using our established global infrastructure, technical expertise and strategic partnerships, Sims is able to fully support the needs of those customers with broken, end-of-life or surplus devices. Our customers can be confident that the same secure, certified and environmentally sound procedures we use to process other electronics will be used to refurbish, remarket and recycle their mobile devices.
To protect its customers from two problems that plague the used mobile device market€"stolen devices and fluctuating prices – Sims has signed an agreement with CheckMEND, the world's largest source of information about used electronics and developed a proprietary system called Price Base.
Through its partnership with CheckMEND, Sims can perform the due diligence necessary to assure customers that the devices the company offers for resale are legitimate. Sims has integrated the CheckMEND application into its inventory management system to automatically check cellphones and tablets when they arrive at a Sims facility. Items with negative report results will be flagged and dealt with on a case-by-case basis. The Price Base system gives Sims the ability to research every available mobile device and know its current value so Sims can competitively price used devices.
For more information please visit:
CheckMEND: www.checkmend.com
Sim Recycling Solutions: www.simsrecycling.com
To view the source Sims Recycling press release please go to: http://us.simsrecycling.com/Newsroom/Press-Releases/Mobile-Device-Recycling 
CheckMEND and GameStop Partner to Strengthen Electronic Trade-in Program
(15 May 2013)
CheckMEND the world's leading due diligence service for used consumer electronics today announced it has secured an agreement with GameStop to deploy its software in all GameStop's US stores to identify devices that are not eligible for trade.
Developed by UK-based Recipero, CheckMEND is a unique, cutting edge system that allows retailers and recyclers to proactively identify unacceptable devices and stop them from entering the supply chain.
Using data that is aggregated from over 20,000 data sources (including the FBI) CheckMEND provides access to its service to both enterprise and consumers. GameStop is the first major retailer in the US to integrate its application at point of sale. With a data warehouse containing over 150 billion records of information that is relevant to any buyer of used consumer electronics, CheckMEND is fast becoming the €śgo-to€ť data provider for this type of information.
Consumers are becoming more aware of the value that exists in their old electronics. That precipitates a need for reliable data and methods to ensure that retailers are protecting consumers. GameStop is leading the way for other retailers to follow suit.
€śWe are delighted that GameStop has stepped up to the forefront of consumer protection€ť said Adrian Portlock Founder of CheckMEND. €śOur product allows GameStop to protect their customers, their associates in store and their reputable brand by deterring unwanted activity. GameStop has set the bar for other responsible retailers.€ť €śGameStop will continue to invest in technology solutions that offer our customers the best and safest choice to buy, sell or trade video games, consoles and electronics€ť said Joe Gorman Vice President of Mobile at GameStop. €śWorking with CheckMEND, we have further enhanced our process, and we are already reaping the benefits of the service in our stores and our state of the art refurbishment center.€ť
About CheckMEND
CheckMEND is a service provided by Recipero Limited, a privately owned U.K. company, which has specialized since 2001 in the collection of data relating to the history of used consumer electronics (www.checkmend.com). It has grown into the biggest online provider of this type of information to both the trade and the consumer and is currently focused on expanding its operations in the USA. General information on Recipero can be found on the company's corporate website at www.recipero.com.
About GameStop Corp.
GameStop Corp. (NYSE: GME), a Fortune 500 and S&P 500 company headquartered in Grapevine, Texas, is the world's largest multichannel video game retailer. GameStop's retail network and family of brands include 6,602 company-operated stores in 15 countries worldwide and online at www.GameStop.com. The network also includes: www.Kongregate.com, a leading browser-based game site; Game Informer® magazine, the leading multi-platform video game publication; Spawn Labs, a streaming technology company; a digital PC game distribution platform available at www.GameStop.com/PC; and an online consumer electronics marketplace available at www.BuyMyTronics.com. General information on GameStop Corp. can be obtained at the company's corporate website. Follow GameStop on Twitter @www.twitter.com/GameStop and find GameStop on Facebook @www.facebook.com/GameStop.
West Midlands Police sign up to Code of Practice to stop sale of stolen goods
(22 January 2013)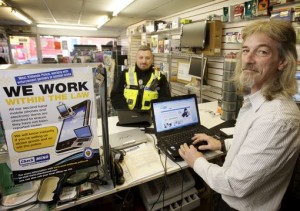 West Midlands Police are one of the first forces in the country to fully embrace a new code of practice aimed at slamming the door in the face of thieves trying to sell stolen goods.
A Home Office Code of Practice encourages forces to get second hand stores signed up to a scheme where they check all items offered up for sale against the CheckMEND database which logs if goods have been recorded as lost or stolen.
The force have hundreds of stores such as Cash Converters, Cash Generator, Cex and other independent second hand stores signed up to the scheme and are launching it in style on 23 January with an Impact Activation Day.
On the day officers across the force will be at second hand stores, schools and shopping centres registering goods onto the immobilise database for free.
Each of the stores who have signed up check items offered for sale against the CheckMEND site. Each search generates a unique certificate number.  This can be issued to a potential buyer to prove that at the time of purchase the item was not reported lost or stolen and no adverse information was recorded against it.
David Bursey from Byte size Solutions in Kings Heath, Birmingham said:
Now we can use CheckMEND we can buy items from people who come in off the street.  We have been dubious about doing that in the past because we have not been able to trace the history of the item.  This has opened up new possibilities in how we can conduct our business that is of real benefit to us and our customers.
DC Vanessa Lewis from Force CID who is heading up the project to get all West Midlands second hand stores signed up said:
Our officers have been passionate about getting stores signed up as one of the main ways we can stop the sale of stolen goods and ultimately deter burglars and thieves.

The more the public register their goods on immobilise, the more effective the system will be.
A YouTube video explaining how the system works is available below or at this link: http://youtu.be/LNx-5eoaXGA
For details of where officers will be across the force area on 23 January please read the full article available in this linked PDF: Full West Midlands Police Article
Gazelle – Leading USA consumer electronics reseller deploys CheckMEND to help identify fraud
(28 November 2012)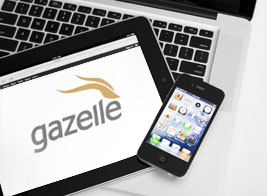 Gazelle, one of the USA's leading high-end consumer trade-in sites, today announced it has deployed CheckMEND, a cutting-edge tool, designed to more accurately detect potentially stolen goods, including smart phones, tablets and computers.
Developed by Recipero, CheckMEND is the largest World's largest consumer electronics background report service, the system compiles data from all major wireless carriers and law enforcement entities across the USA, providing the most complete database of devices available. Gazelle is the first consumer electronics trade-in site to deploy CheckMEND and collaborated with Recipero to tailor the product to help address the growing incidences of consumer electronics theft.
For Gazelle the introduction of CheckMEND comes at a good time with the proliferation of high-end consumer electronics theft. In fact, New York City's police commissioner recently reported that Apple products now represent more than 40 percent of stolen property in the city and San Francisco police report that nearly half of all robberies in the city in the past year have been cell phone related.
We are dedicated to providing the best customer experience possible, and part of that promise is to protect each customer's personal data
said Israel Ganot, CEO, Gazelle.
We always take security very seriously. With the CheckMEND deployment, we're taking this to a new level, committing not only to the protection of a customer's personal data when we receive the device, but also going the extra mile to ensure that any devices we accept are being sold by the rightful owner and to discourage and prevent theft of consumer electronics.
Recipero's CheckMEND service makes it possible to do a more thorough screening by checking a vast set of carrier and law enforcement sources for a much broader set of consumer electronics. CheckMEND is capable of comparing each inquiry against more than 150 billion records of information, including more than 50 billion items.
For more information please visit the following websites.
Visit Gazelle: www.gazelle.com
Visit CheckMEND: www.checkmend.com
Visit Recipero: www.recipero.com
More news at: